RESULTS:
Short Course Results
Long Course Results

Thank you to everyone that dismissed the weather forecast and attended the event.
NO RAIN -- Slight NW Wind & bit of swell made for a nice challenging day. For part of the day we even saw blue skies and the sun.
I would also like to thank our Sponsors, Volunteers & Safety Boat Drivers for their generous contributions that made this event possible.
Volunteers: Angela, Cheance, Anne, Margie, Beth, Tyler, Heather, Alli & Marissa
Safety Boats: Chuck, Ivo, Miho, Mark, George, Mike & Christian
Sponsors: PaddleMe, JetBlue Airways, SUP ATX, Rubio's, Ocean Paddlesports, Mudbrook Paddles, OnIT Pro, Hawaiian Energy Shotz, Riviera Paddlesurf, Brilliant Lenses, Poseidon SUP Shop (Venice,CA.) & Bomber Sunglasses.
Story of the day will be posted soon... If you have any individuals stories or experiences that you would like share, please email them to m2m@paddleme.com

A big THANK YOU has to go out to Kare Haereiti ... she was leading the Women's short course OC1 division when a young paddler fell into the water and lost his boat and paddle. Kare stopped paddling to help this paddler until the safety boats arrived.
2011 Mike "SheaDog" Most Inspirational Paddler Award


Surrounded by his ohana, team, friends and competitors, Al Ching was honored at the PaddleMe.com Malibu to Marina Championships Saturday as the Most Inspirational Paddler for the season 2010-2011.(pictured Al Ching - photo courtesy www.ocpaddler.com)
The votes were tallied, and while it was a tough slate to chose from, it was evident by the display of Lanakila participants that Al truly does inspire. I wish I had asked them to raise their glasses, further testimony to his credit, as most of the glass holders, aka winners, in today's long course were from Lanakila.
Al Ching- Al has an unending passion for all things Outrigger, Mudbrook Paddle maker, long course OC1 paddler, Coach and founding member of Lanakila Outrigger, "Danny's dad!" "...All his contributions to Outrigger & racing hard on the OC-1 whether here in SoCal or his 27 mile Maui-Molokai OC-1 Solo crossing last year at 70 yrs old!"-Thomas Shahinian
Congratulations Al!
Al beat out some other inspirational paddlers to win this years award including Shaun Evola, Aimee Specter, Kel Thompson, Julie Wolfe, Keith Keilor, and Dennis Campbell.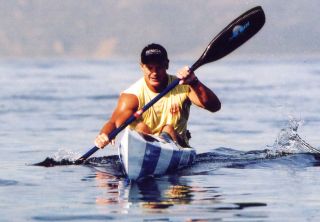 Mike Shea
The award is in celebration of Mike Shea - aka Sheadog (pictured above) - a legendary paddler who started paddling in the So Cal scene only to transplant up to Northern California and stoke the fire of the Nor Cal Paddlers. Mike lost a battle with Cancer in 2005 but his spirit lives on.
Pictures from the event can be found at the following links:
http://hamsterworks.com/outriggerphotos/index.htm
Mike McKinney SmugMug

For Questions or Sponsorship Information:
Call: (310) 944.3909 or Email: Race Coordinator